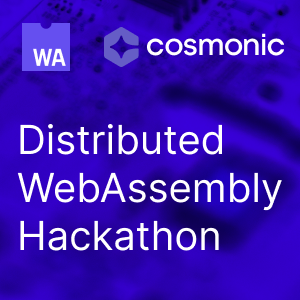 Come build your ideas, side projects, and hacks on Cosmonic to win a share of a $5,500 prize pot💰! This week we launched our distributed WebAssembly hackathon in partnership with DevPost, and we're inviting everyone, worldwide, to come join. Our only requirement is that you build your project with the CNCF application runtime wasmCloud and run it on Cosmonic; the rest is up to you!
Together with DevPost, we're announcing the #CosmonicHackathon to get you from an idea to running an application across any cloud, edge, or scale in minutes. For us, the really interesting part is when we get to see your ideas come to life.
Perhaps you want a way to monitor the hydration of the soil in your plant pots, wherever they are in your garden? Maybe you imagine being able to control your household devices on just one app? Or, is it your dream to create an application that will tidy your kitchen? Disclaimer: We can't perform miracles but you get the picture.
The #CosmonicHackathon is open-ended, and we welcome all application domains for submissions. We want you to take your idea, whether it's something that would improve your daily work, replace functionality in an existing application, or the beginnings of a potential startup - implemented using WebAssembly and hosted on Cosmonic.
Our mission at Cosmonic is to bring joy to application development - particularly when developing for highly distributed environments. Because of its ability to strip away complexity and boilerplate code from the development process, WebAssembly (Wasm) is fast becoming a way of life for developers of all kinds. New use cases are popping up everywhere - whether it's in gaming, within banks, in the automotive industry, or on devices at the edge. We think you'll love the experience of building out your idea with this new paradigm.
It's easy to get started. Click here for more information on the Hackathon, to register and for inspiration as to the kind of apps you can create. Then, join our Discord and the #cosmonic-hackathon channel, sign up for a free account, download our cosmo command line tool, and browse through the documentation. Once you get your welcome email (which should be within 24 hours of signing up) you can run through our quickstart to build your first WebAssembly application in less than a minute.
Want to build distributed applications? Get hacking on Cosmonic for free today
Get started with Cosmonic for free today
We've seen successful Cosmonic projects across a variety of domains, here are some patterns that work exceptionally well:
To give you a few real-world examples, here are some case studies:
We can't wait to see what you create! Good luck, and happy hacking.